Advanced search that better directs the customer to the product they are looking for and thus increases conversions.
Full-text searches can be filtered by data source.
Addresses spelling, diacritics, synonyms, typos.
Price
For connection: 0 €
To activate contact directly support services.
Support
Increase the number of orders with a smart search engine!
What is Advanced Search Ready?
Have you ever thought that your e-commerce store's search box can lead to increased conversions? Search Ready is a smart search engine over website content that proves it. In the e-commerce realm, advanced search has been proven to increase customer satisfaction and the likelihood of completing an order. It allows them to find exactly what they want to buy on a given e-shop very quickly and easily.
According to research, customers who use search will place up to 4 times more orders than those who do not use search. Yet up to 52% of them will abandon their entire basket if they can't find even one item they want to buy.
Whatever form your customer types their query in, Search Ready will immediately offer the most relevant results. What's more, their ranking is completely in your hands. Is margin, discount or product rating an important criterion for you? You have the opportunity to select and set many parameters that will influence the search results.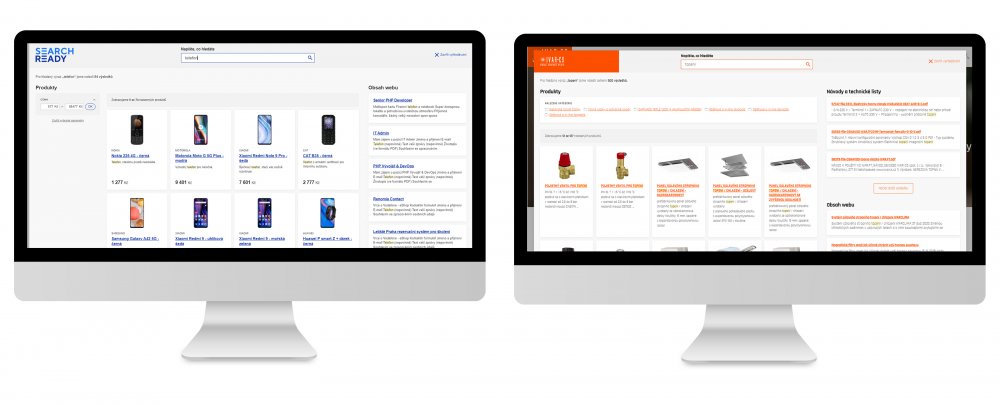 Default search results page vs. customized page
How is Search Ready essential for your e-shop?
It leads to an increase in orders
Provides a competitive advantage
Reduces the rate of e-shop abandonment
Allows you to react immediately and improve search without waiting for the system to optimize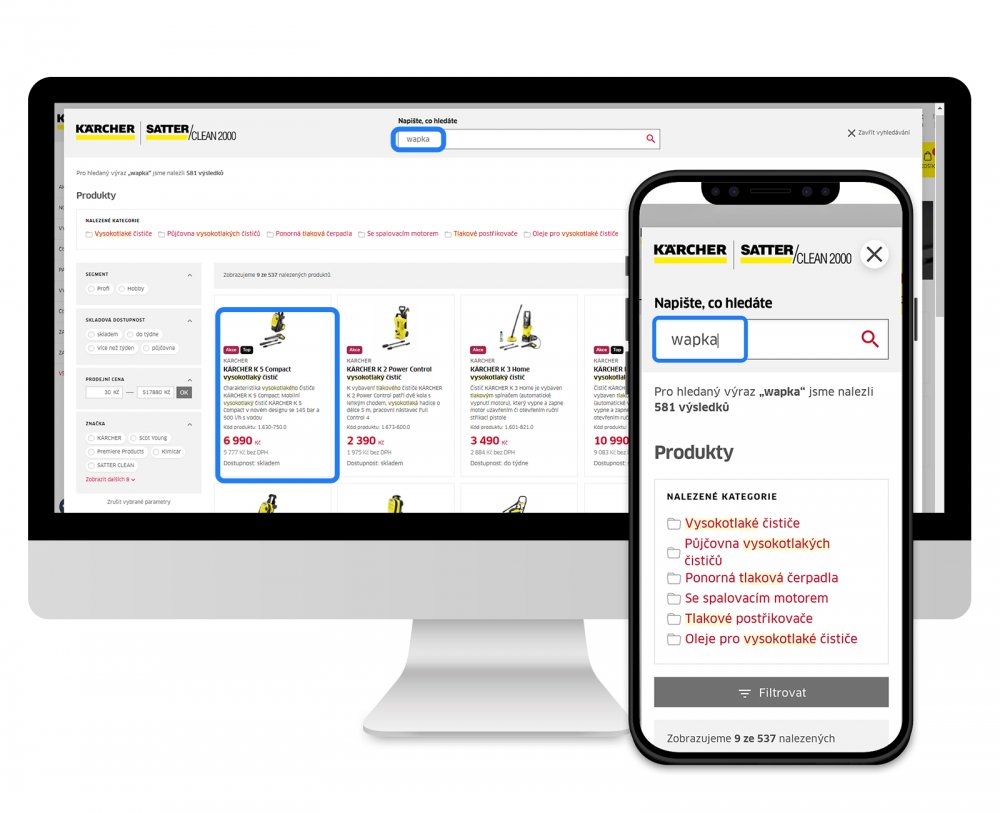 Relevant results for any query shape
What can Search Ready do?
It will significantly help you upgrade your site towards increasing conversions. With many advanced features, statistics, and the ability to adjust the weighting of individual search criteria, you decide how to rank your results, giving you the ability to show products that are more attractive to you in the first place.
They understand your customers. Thanks to typo recognition, working with Czech pronunciation or the possibility of setting synonyms, they understand even terms written in "common" and naturally imperfect language. It can also work with other languages. In addition, it can find products by their code or marking, regardless of whether the customer writes them in the correct form.
It gives you the ability to influence a variety of parameters, be they titles, product descriptions, category names, keywords, and determine which one has a higher impact on ranking results against other parameters. It also allows you to include factors such as margin, rating, stock, product action, etc. in the calculation of the relevance of results.
Increases shopping convenience. The customer can sort the search results or apply filters according to the criteria you set such as price, product availability, rating, etc.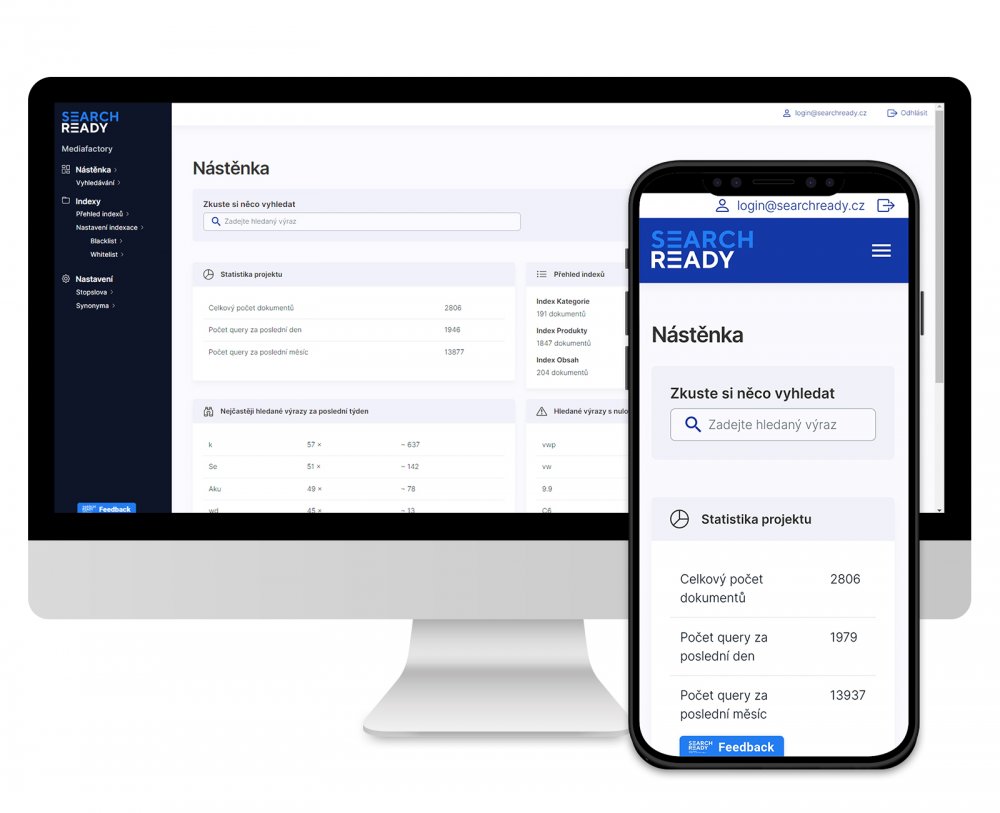 Why is an ordinary search engine not enough?
It is enough if your business goal is not to effectively develop your e-shop to generate more orders and satisfied customers. But that certainly doesn't apply to you. The most important thing that an ordinary search engine will not offer you is the ability to influence the search according to your needs in a simple administration. As a rule, a normal search engine does not provide any sorting of results at all and shows them in a random order that cannot be influenced.
How complicated is the implementation of Search Ready?
At least. Using Search Ready does not require any intervention. We retrieve information about your products from existing XML feeds that Upgates provides. Then all you have to do is insert a single javascript file into the source code, which is no problem with Upgates, and you can start using Search Ready. The initialization itself, including setup and training, won't even take us two days.
Is the price fair and reasonable?
With us, you pay for the actual and measurable effect that the search engine will deliver, and only above a certain threshold of results. No payments for each search, number of results or products clicked.
In addition to the one-time initial investment for a comprehensive implementation according to your needs, including training, you have the option of a regular monthly or convenient annual payment for the license and performance of the search engine.
Contact us for more information or a no-obligation consultation at info@searchready.cz or call 739 891 935.