Selling digital products - creating a membership section that customers can access after purchasing a product.
Strengthening revenue by selling complementary products.
Developing brand image and professional reputation in the industry. 
Protection from downloading your materials - e-books or videos.
Price
For connection: 0 €
To activate contact directly support services.
Support
Are you thinking of creating an online academy to offer your online courses or other digital products?
Mentortools software allows you to create your own membership section for online products without needing to know how to code, all quickly, easily and intuitively. You can get started and monetize your skills and expertise in a matter of days. At the same time, you'll bring your customers a great experience and convenience in the form of quality online education.
Why create an online academy now?
Providing expert information on social media for free has long been insufficient to attract and retain paying clients. Therefore, it's the right place to start creating an online academy for your customers as a value-add for their optimal growth and satisfaction.
Unlike social networks, the members' section offers:
Systematized, expert information materialized into products,
your entire product portfolio + a discussion forum under one roof,
automation of the presentation and sales of your digital products,
the customer registers in the members' section with an email address to access the content.
Most people already enjoy the convenience of shopping online, and this is also true for online education. And it's with an online academy that you give them access to the materials they want 24/7. They can purchase your course at any time and educate themselves when they have time on their own.
You create online courses for your online academy at a time and pace that suits you, and you sell your products through an automated sales funnel even when you're not at your computer.
Benefits and features of Mentortools
Find a way to promote your e-commerce store and naturally differentiate yourself from the competition.
Explain the uses and benefits of the products you sell in your e-store.
Collect email addresses from potential customers and automate the sales process.
Expand their portfolio with digital products to increase their sales & revenue.
Who the add-on is for
Mentortools is suitable for all e-shop owners who want to:
Find a way to promote their e-shop, naturally differentiate themselves from the competition and build a quality brand
Explain the uses and benefits of the products they sell in their e-shop.
Collect email addresses of potential customers and automate the sales process.
Expand your portfolio with digital products and increase sales and revenue.
What does this add-on enable?
Free trial period
You can create an online academy with your courses in just a few hours and for 14 days on trial completely free of charge. During this time, you will customize the academy to your corporate design style and create your first products.
During these 14 days you can also test your first lead-magnet sharing or start offering paid online products. The trial test version has no functional limitations.
If you want to try Mentortools for 14 days for free, just fill in your details in this short registration form and then you will receive the access details in your email.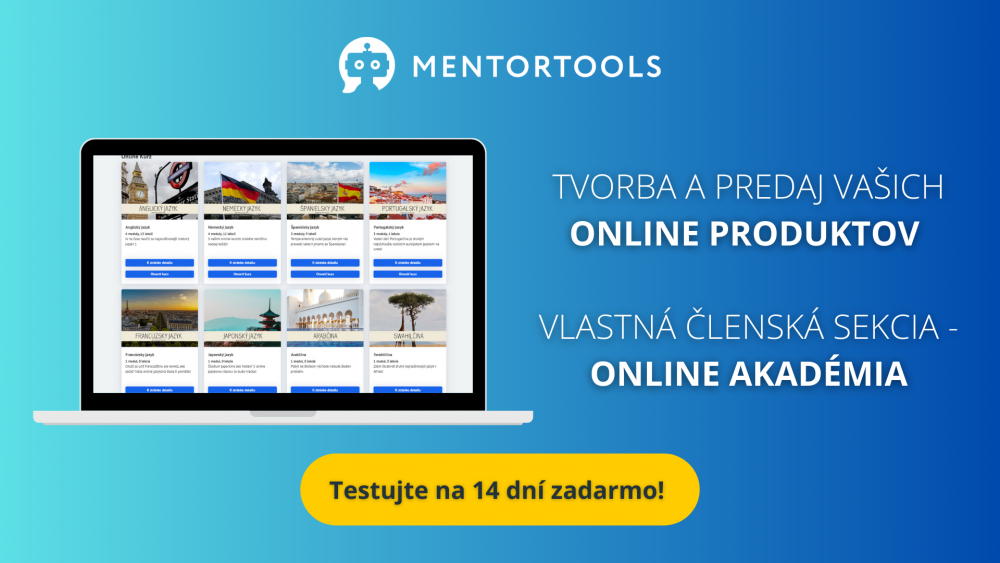 Webinar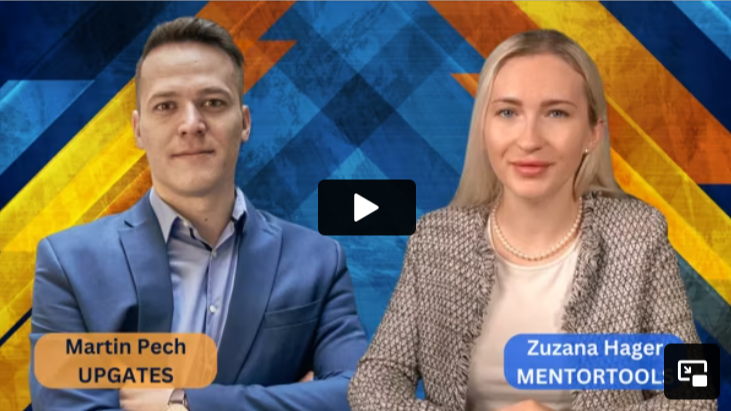 Listen to the recording from the presenter - Zuzana Hager from Mentortools
Date: this Thursday at 19.00
What you will learn during the webinar
Why it's a good idea to add additional explanation to your physical products
What added value will you provide to your customers? How can you offer more and therefore sell more?
What is the difference between a member's section - online academy and an e-shop
What are the differences between physical and digital products? What are the advantages of combining online product sales with products from an e-shop?
We will introduce you to a marketing strategy for long-term customers
How to achieve higher sales and increase the loyalty of your customers? How to ensure that customers don't leave your e-shop without leaving contact? 
At the end of the webinar, we'll go through the next steps, then answer your questions
How can you easily connect the software taught for creating a members section/online academy - Mentortools with the software for creating an e-shop - Upgates? 
The main role of Mentortools in the sales process
Mentortools software emphasizes on easy user experience and high level of interaction with customers. Mentortools provides automated sales of digital products in the members' section via a promo page with a link to an order form, followed by automatic distribution of access to the purchased courses.
As part of the automation, the following features are available to you:
Linking Mentortools with payment software
Linking to email marketing tools
Sending product access data directly from Mentortools
Creating simple promo pages (sales page, promo page, thank you page, one more step page ...) to help you present and sell products through advertising
Downloadable landing page and online course templates
Creation of opt-in processes, to automate the customer journey
Use of artificial intelligence
Artificial intelligence is a breakthrough tool for course creators as well. In Mentortools, you already have the opportunity to work with the first AI feature: Course structure creation using AI. This feature will generate several suggestions for a suitable course structure based on your preferences within a few seconds. Mentortools is planning other great AI-powered features such as scripting for videos, automated posting to discussion forums, and quiz creation.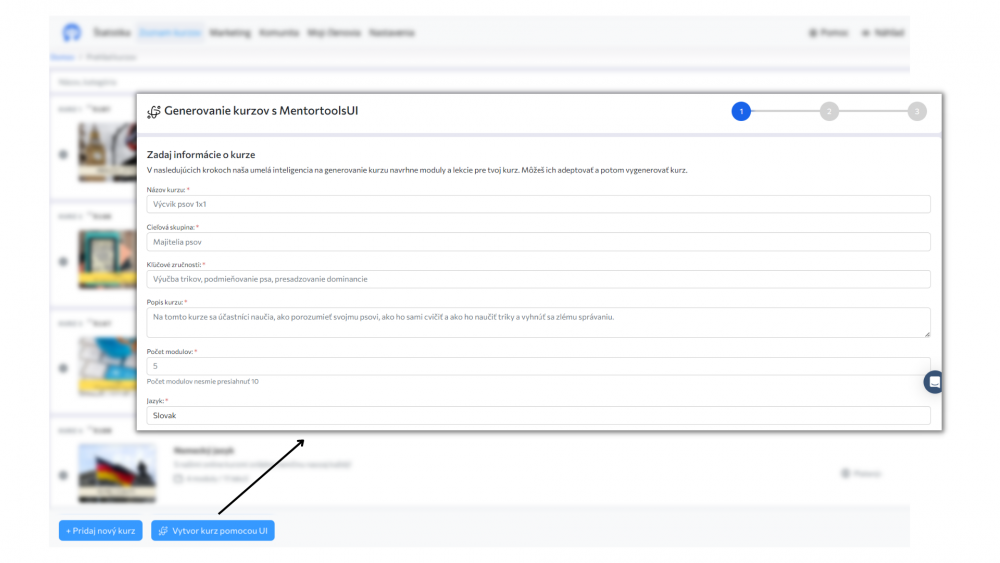 Activate the add-on in minutes
Activation is done according to the instructions here.
Subsequent connection check here.
Sample of editing your online academy
After each login to the admin account, a clear list of all your online products awaits you: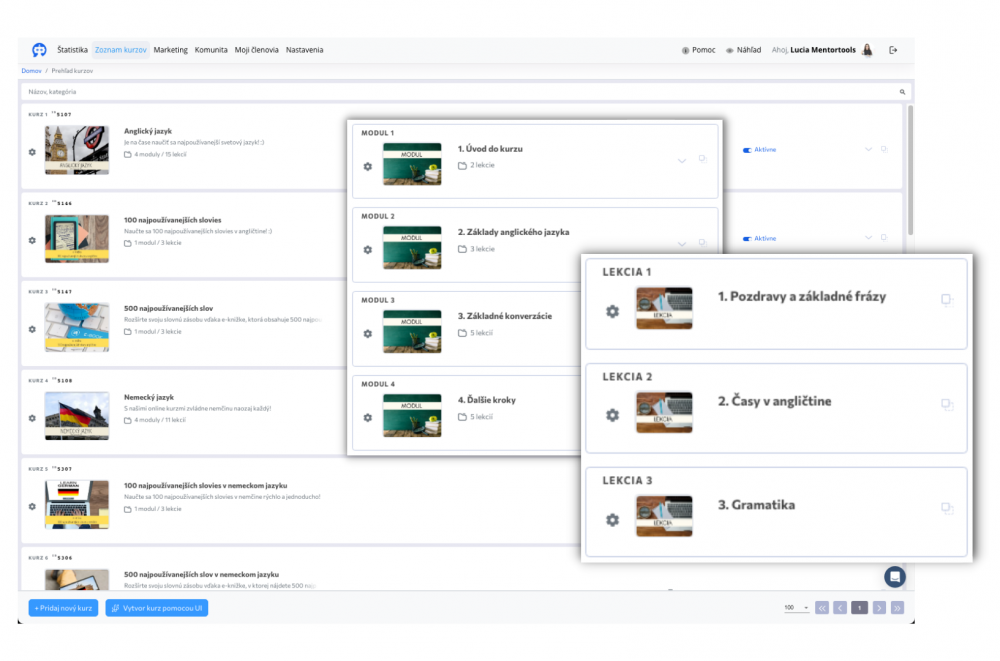 In your editorial environment, you intuitively create new modules, lessons, quizzes, and embed content directly inside. Or you can use the help of artificial intelligence, which will create several suggestions for the course structure according to the keywords and phrases you enter to describe your course.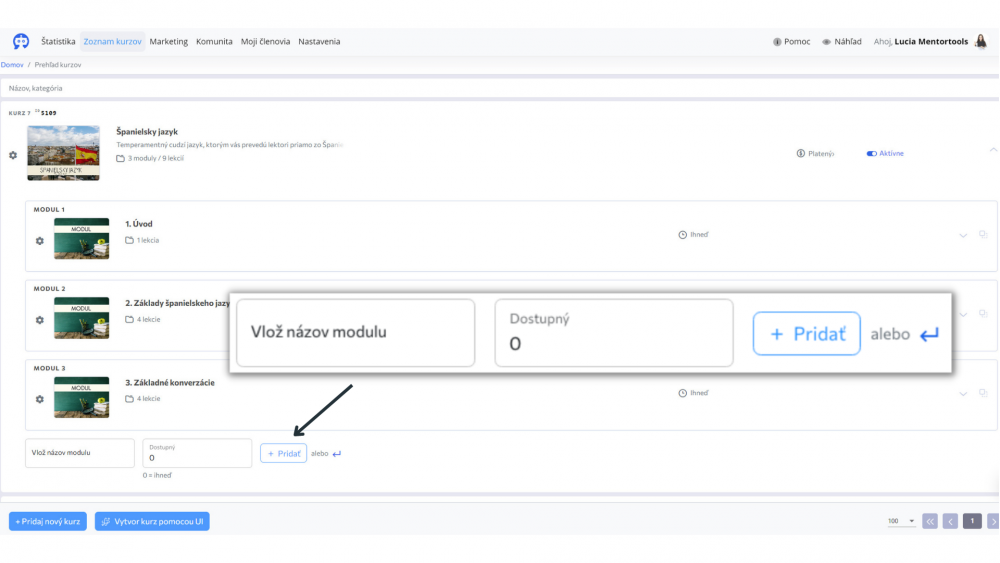 If you want to liven up your courses and give your customers a dynamic learning experience, use the creation of self-assessment quizzes. When setting them up, you have many options to customize them to your preferences. For example, you can set a percentage success rate, or unlock additional modules and lessons only after successfully completing the course.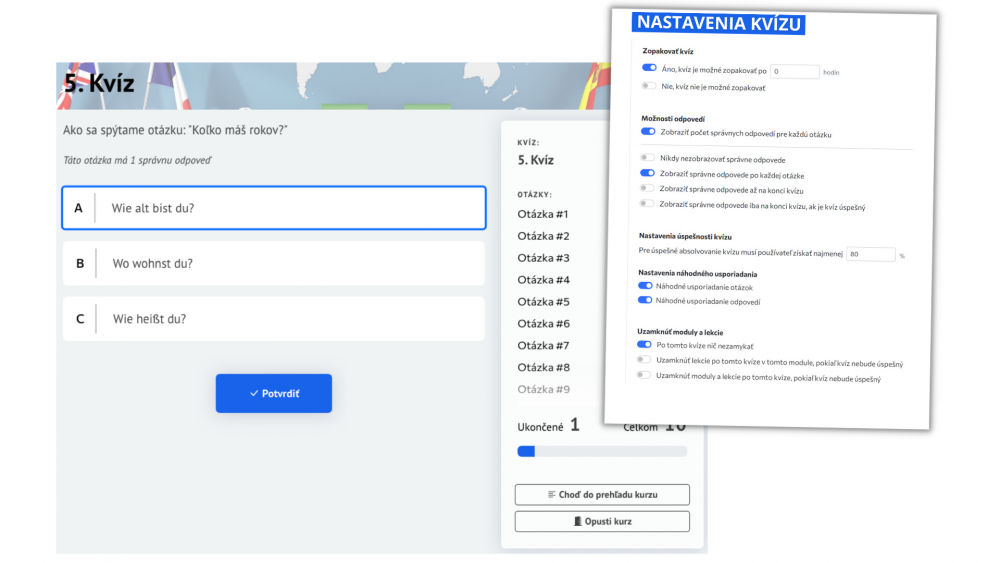 Whenever you edit the member section design settings or create and insert content into a course, you can always check the Preview to see how your client will see the member section.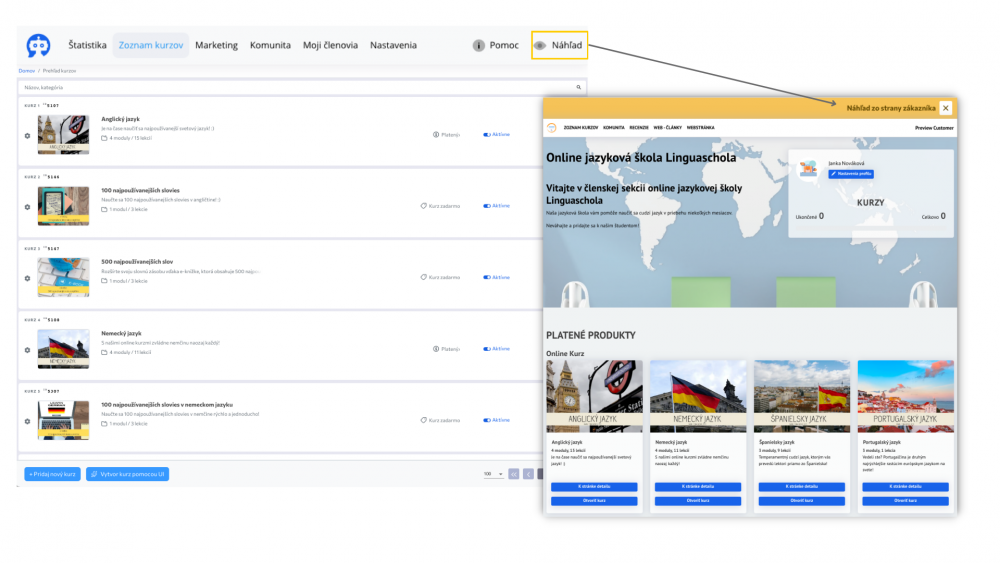 Members section design - the way your client sees your online academy can be set according to default templates or your own preferences. This way, your online academy can have the same design as, for example, your website. Therefore, each member section created via Mentortools software is unique and your client will not even notice the move from your website or e-shop to the online academy.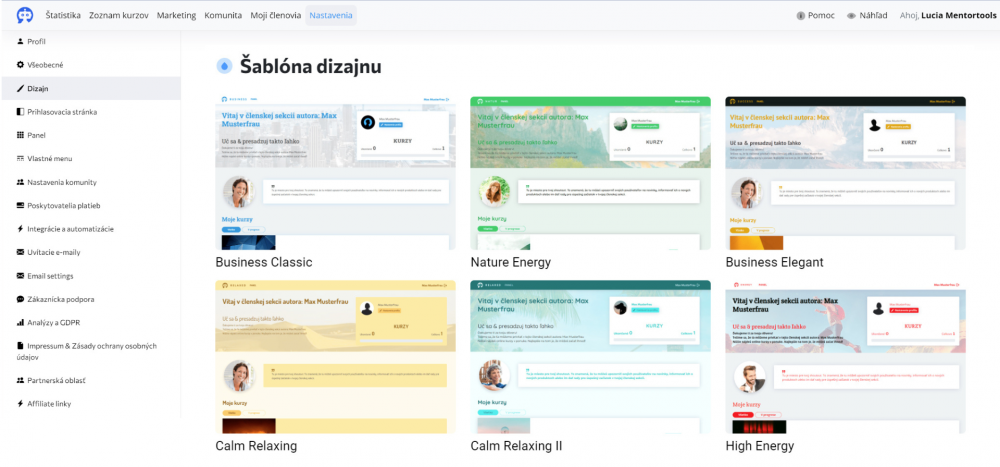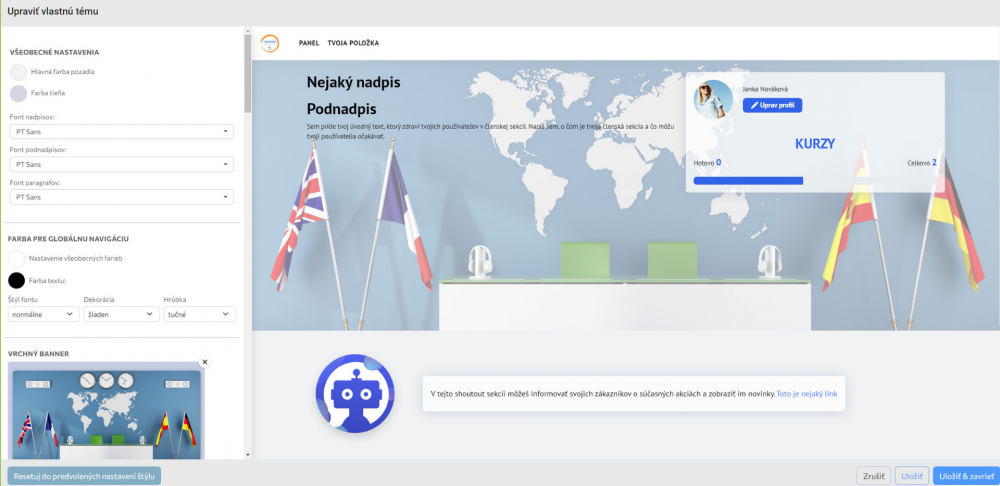 In the My Members section you will find a complete database of your members and all the information about their accesses, as well as statistics about which courses they have access to and what they have already completed.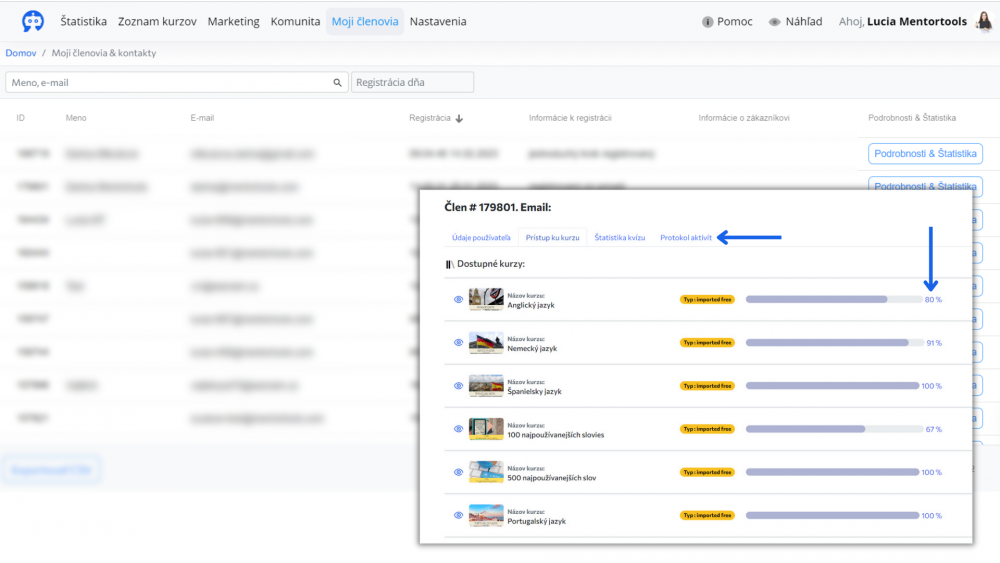 V nastaveniach sa navyše sami sa rozhodnete, či chcete vo vašej členskej sekcii využívať diskusné fóra alebo nie.

How the customer sees the membership section is up to you:
Courses can be sorted by the categories you define. Then members of your member section can see all your available products -grouped into groups-, even those they have not yet purchased. In this way, every visitor to your member section can see your entire product range and can buy them at any time.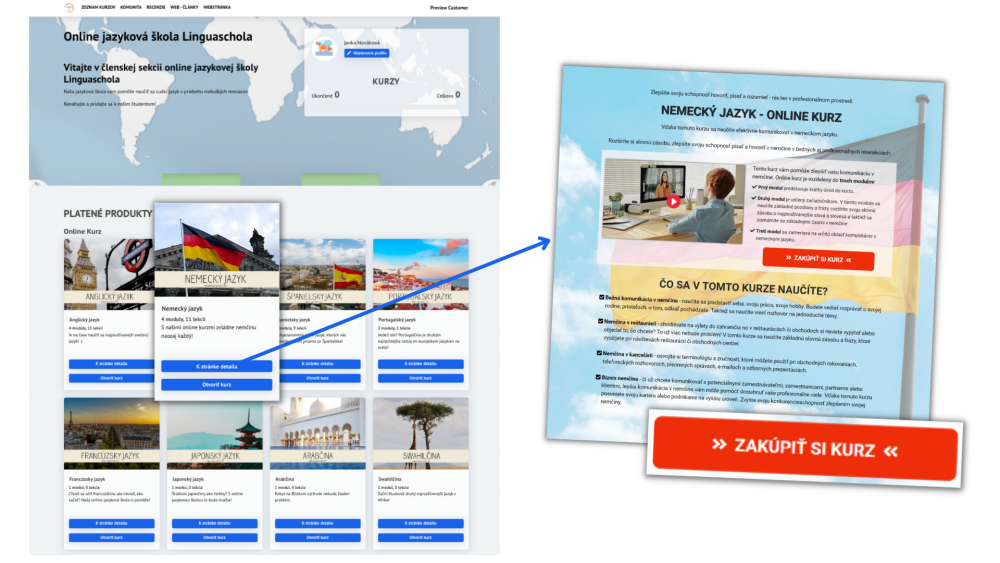 The Mentortools team is constantly working on the development of new features and thus responds to the needs of its customers - coaches, online entrepreneurs, tutors, or e-shop owners who also want to offer digital products. Of course, there is quality customer support in Slovak language and also opportunities for marketing training and individual coaching. If you don't have enough time, we also offer a full technical setup service of the members' section by Mentortools team experts. Free migration from the previous hosting (another member section) to the Mentortools member section is also a frequently used service.

Are you looking for an easy and effective way to share your knowledge and skills with others in the online world while increasing your sales and revenue ? Mentortools software is the right choice for you.