A marketing tool that allows customers to spin a wheel of fortune and win a discount on their purchase when they enter the e-shop.
Link to a third-party service.
Pair loyalty coupons with Koolo.
Price
For connection: 0 €
Support
More about Koloo
Koloo is a marketing tool to help you capture the "carousel of discounts" widget motivate visitors to your e-shop and motivate them to buy in the form of a discount or benefit. It also allows you to get an email address from visitors for subsequent email marketing, of course in accordance with the GDPR.
What does Koloo do?
In a fun way in the form of a "discount carousel", motivate site visitors to claim a discount or other reward to purchase. He will receive this discount / reward in the form of a discount coupon, which he can apply when purchasing
Allows you to receive email contacts from visitors for email marketing
Increase motivation of visitors to buy
Ability to support Facebook marketing with Koloo
Why choose this add-on
Want to do your best to support marketing? Try the Koloo widget, which has already convinced many e-shops on the Slovak and Czech markets of its performance. Long-term regular development has brought a number of functions that will be appreciated by both e-shop owners and top and marketers. Join the group of satisfied users and maximize the potential of your e-shop!

Get better conversions for purchases

You get a tool that you will appreciate and attract the visitor at a glance

The subsequent email newsletter will be much more numerous with the obtained email addresses thanks to Koloo. More contacts = more turnover
Instalation
Nastavení kampaně a vložení scriptu výherního kola do e-shopu UPgates
1) V administraci nástroje Koloo si založíte novou kampaň. Ve správě kampaní poté kliknete u dané kampaně na tlačítko "Implementovat".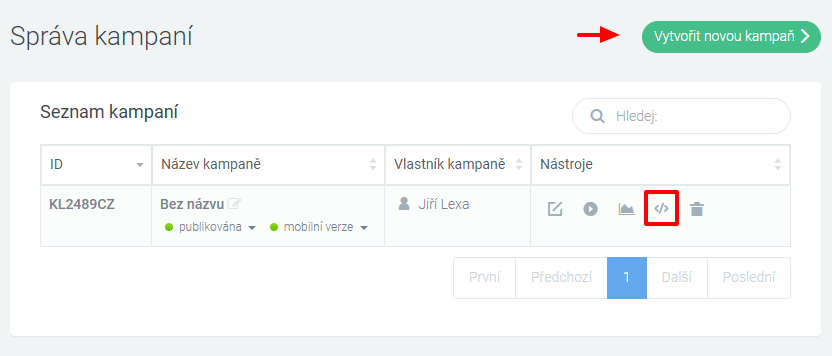 2) Vybere si možnost implementace "UPgates" a zkopírujete kód scriptu.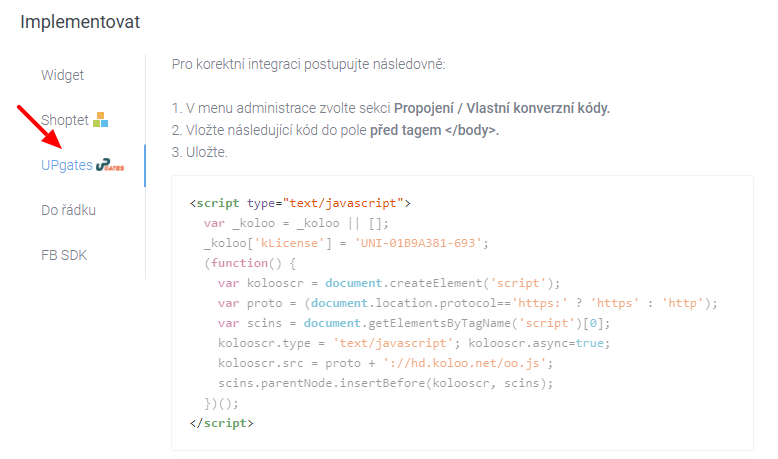 3) Script vložíte do hlavičky vašeho e-shop dle návodu zde. 
Spárování slevových kupónů e-shopu s nástrojem Koloo
1) V administraci e-shopu si vytvoříte dostatečný počet slevových kupónů v potřebné výši (5%, 10% apod.) dle návodu zde. 
2) Ve správě kampaně Koloo si určíte výherní a nevýherní pole kolotoče slev. Do výherních polí pomocí tlačítka "Spravovat" vložíte seznam slevových kupónů vytvořených v prvním kroku.