A tool that reforecasts sales for each item separately.
Increases item availability to 99%+.
Reduce inventory value by up to 40%.
Performs understandable product segmentation.
Defines a daily recommended order list.
Save time in the ordering process.
Connection via API.
Price
For connection: 0 €
Support
More about Inventoro
Inventoro analyzes historical data and calculates sales forecasts to retailers. Based on this data, it then optimizes the stock. Inventoro advises users when ordering goods, thus increasing the availability of goods to more than 99% and reducing the value of inventory by 40 %. 
What does the sales forecast for Inventoro look like?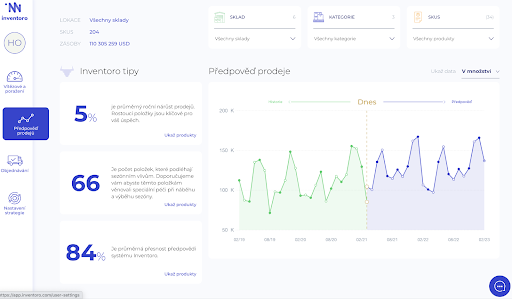 How does Inventoro recommend orders?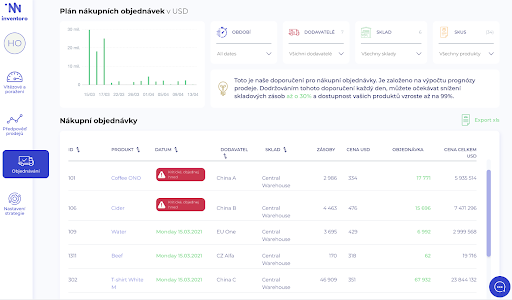 What Inventoro can do
Predict sales for each item separately
Increase the availability of goods to 99 % +
Reduce inventory value by up to 40 %
Understandable product segmentation
Daily recommended list of orders
Save time when ordering
Data exports
It learns on its own - the more you use it, the more accurate the results it provides
Take into account the time of delivery of goods from suppliers
Advanced filtering
Setting the strategy according to the frequency or amount of sales
Automatic connection to the warehouse system
Unlimited users/li>
What is the secret of Inventoro predictions?
Inventoro is a simple surface application. Inside, however, lies an advanced computational algorithm that has undergone 15 years of development. In fact, he has more than a hundred of those prediction algorithms. Everyone works a little differently. Some are purely mathematical. Others use the principles of artificial intelligence and neural networks.
Inventoro calculates the sales forecast for each customer item separately by running all algorithms and letting them compete with each other. The one that brings the best result is then used for the final calculation.
In the second phase, the inventory looks at the quality of individual products and finds out which ones generate the largest profit and which, on the contrary, are loss-making for sellers. This divides the entire portfolio into three basic groups: Winners, Holders and Losers. 
In the final phase, Inventoro calculates how much goods need to be ordered, so that especially the most profitable items are always available and at the same time unnecessarily much shopping. This keeps the stock level in stock at an almost ideal value.
Who is the supplement for?
For small and medium-sized enterprises in retail and wholesale, which have a warehouse and trade mainly in high-turnover goods.
Why choose a supplement?
Thanks to Inventoro, customers can achieve higher availability of goods and thus keep customers satisfied. In addition, Inventoro greatly helps cash flow by freeing up large amounts of money wasted in inventory in the long run.
Try Inventoro for the first 14 days for free.