Enable higher conversions by personalising campaigns based on accurate customer behaviour data
Automates classic retention marketing scenarios - abandoned carts, welcome sequences, repeat purchases, holiday or birthday campaigns, reactivation campaigns, product upselling, transactional emails and any other workflow
Reach customers via email, SMS, social, on-site widgets and other digital channels throughout the customer lifecycle
No need to pay for different software and measurable savings of up to 70% in marketer time by integrating multiple marketing products
Advanced data analytics and artificial intelligence to optimize campaigns - collect data from the e-commerce and other systems, analyze it and integrate it into decision making and campaign automation, automated content creation
Price
For connection: 0 €
Support
Incomaker is an advanced AI-powered tool for retention marketing. It draws data from your e-commerce and other systems and uses it to automate retention marketing from capturing and identifying the accidental visitor, to directing them to make their first purchase, upselling, managing customer satisfaction, motivating repeat purchases, and using the customer to spread positive referrals. It leverages email, SMS, social media and on-site elements directly on the e-store, using AI to drive additional sales.
1) Turn casual visitors into customers
Don't let opportunities slip through your fingers. Incomaker collects leads through pop-ups, form fills, information taken from the e-commerce site and other channels. It identifies people who have visited the site, profiles them, and then automatically targets your campaigns straight to them. Allows you to collect leads from Facebook Ads using Leads Ads or sign up for notifications. All in compliance with GDPR and the Electronic Communications (Cookies) Act.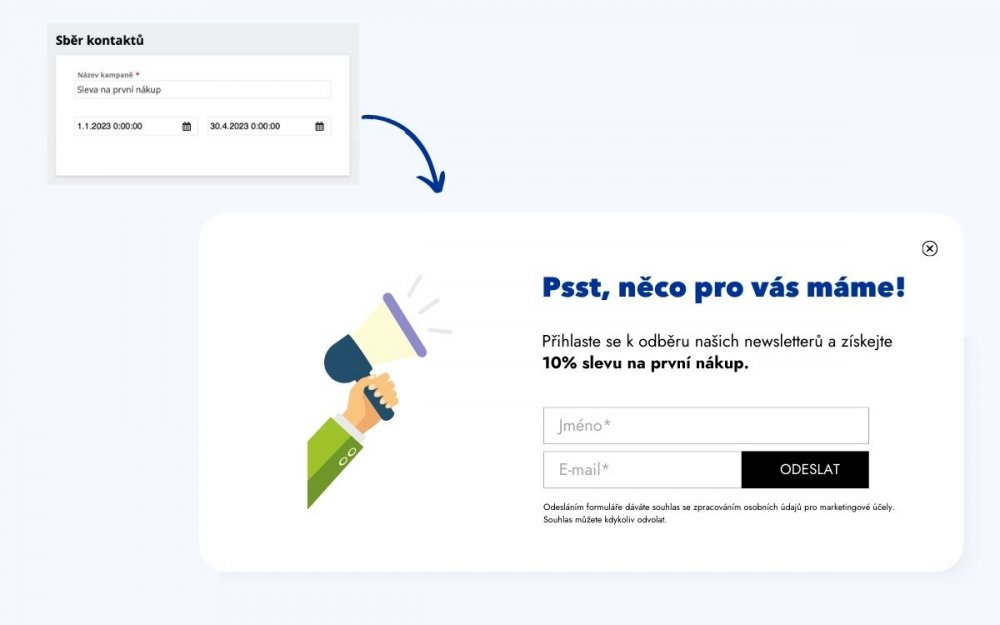 2) We are not all the same: get attention by personalisation
Be personal in your communication. Incomaker will ensure the right communication with the right customer at the right time. It makes content creation easy no matter how many e-stores or language versions you run. It will always speak to the customer in their language, selecting the right products for them, showing them personalized prices. More personalization brings more conversions.
Communicating in the customer's language
Synthesis of text
Addressing by name
Personalised product offers
Personalised prices and currencies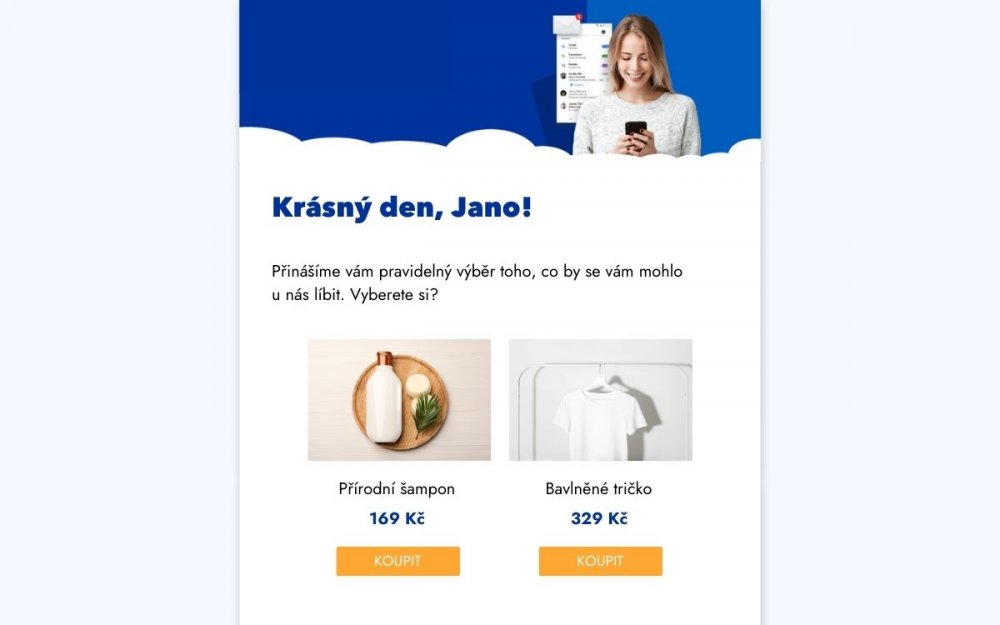 3) Convince the customer to make the first purchase
Individual discounts on the first purchase, automation of abandoned cart by email, social media, or text message will help guide a hesitant customer to their first purchase and save 8-10% of sales that would not have happened. Product widgets can personalize the product offer directly on the e-shop or offer products for upselling. Information strips and notifications will highlight events and increase the sense of urgency. Incomaker will help lead the customer to the first purchase.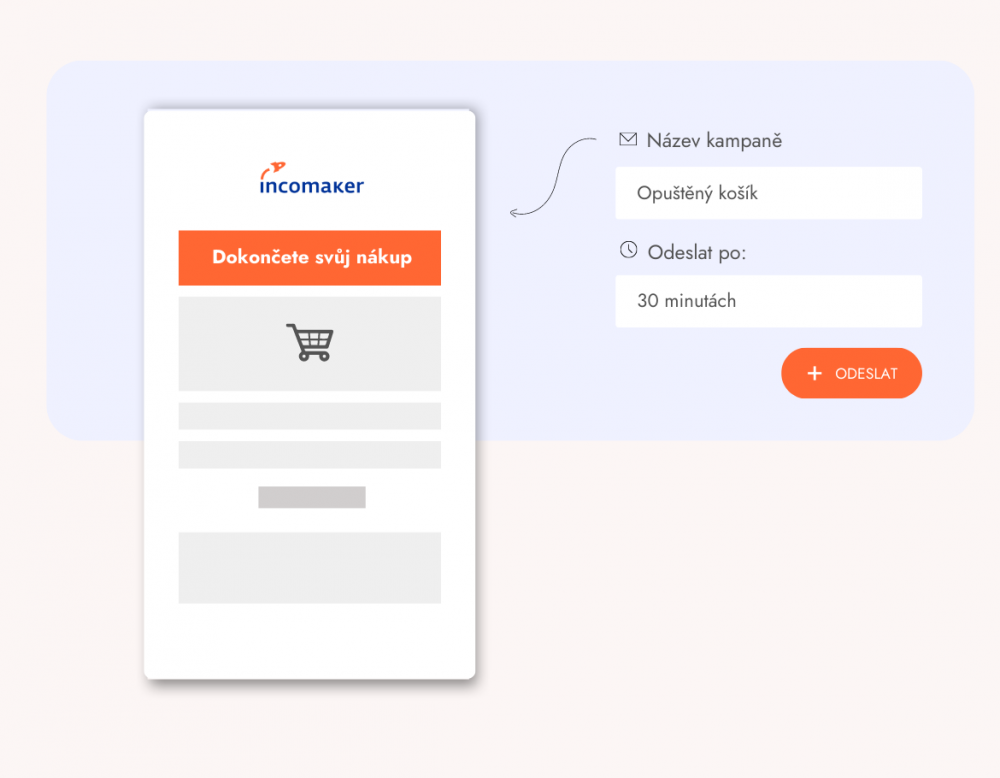 4) Communicate continuously, advanced segmentation methods allow you to target customers more accurately
Incomaker has by far the deepest data integration with e-shops and can fully leverage data. Segmenting customers based on their characteristics, previous purchase behavior, geolocation, web behavior, campaign responses, contextuality, lead scoring, RFM segments, cohorts, buying personas and many more gives you the ability to implement even the most sophisticated marketing strategies without the need for professional data analysts.
Incomaker can also select the most appropriate customer groups for a selected set of products. This significantly improves the reach and does not bother unnecessary irrelevant customers. Communicate personalized offers continuously through all available channels. Automatic social media posts save marketers time.
We can communicate with customers conveniently through all channels:
Email
SMS
Social networks
On-site elements on the web
Pop-ups
Landing page
Integration of external tools
5) Track satisfaction after the first purchase and bring the customer back over time
Incomaker can send a sequence of emails to the customer after the first purchase, explaining for example the advantages of the e-shop compared to the competition, the warranty policy or inviting them to the VIP club. By assessing satisfaction after the goods have been received, Incomaker helps prevent negative reviews on price comparison sites.
For fast-moving goods, Incomaker determines the customer's behavioural pattern and can offer the customer to repurchase goods that will soon run out (toners, baby diapers, pet food...).
At each stage of the customer lifecycle, Incomaker allows to communicate with the customer in an optimal way by combining the available channels. It offers a range of proven scenarios or allows you to build any custom workflow.
6) The cheapest marketing is the recommendation of a known
Incomaker actively supports customer satisfaction measurement. It alerts customer support to dissatisfied customers and can respond to the complaint process, for example. It actively encourages satisfied customers to recommend the e-shop and products to their friends: using all available channels.
7) Data-analytics module and reporting
Incomaker makes the most of data from all sources. It can draw data not only from the e-shop or website, blog, but also from external ERP, CRM and other transactional systems, for example. It allows you to clean data, discard duplicates, add addresses, geolocation, wrong email addresses and much more. Performs advanced data analytics, displays output in clear reports and prepares for use in campaigns and export.

8) International e-shops
Incomaker has advanced support for different languages and markets. Our customers operate virtually all over Europe. Incomaker respects different languages, currencies, cultures. It will always communicate with customers in their language and take into account their customs (e.g. individual holiday calendars for more than 15 countries). You can manage multiple e-shops either separately or together - just as it suits your marketing strategy.
Who else can guarantee you a positive ROI?
Incomaker can track conversions far more accurately than Google Analytics, because it has access to your e-commerce data as well. With more accurate data, it can also manage campaigns as well as an autopilot plane, so we can afford to guarantee that you'll see a return on your investment in Incomaker after just 6-8 weeks.