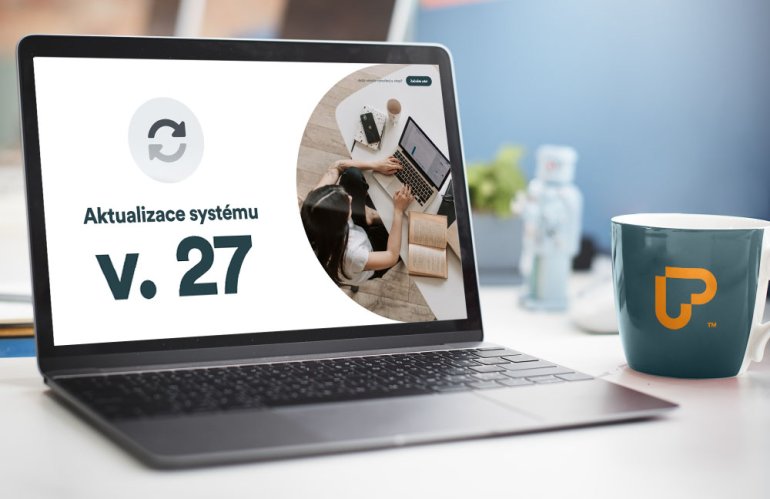 Administration
New look
In the administration part of the e-shop, we have performed more optimizations to facilitate and more intuitive work with individual elements. This is a new look of the administration part itself, but also an improvement in the functionality of some existing elements. We have also focused on the mobile version to make working with the e-shop administration more intuitive.
Documents in PDF format
All Upgates documents will now be in PDF format. Instead of the existing HTML format used for some documents (such as an order document).
Product's position in stock
For a product, you can enter its position (location) in your warehouse. This position can be added to system emails and the order document using a dynamic shortcut. The position is also included in the export. More info.
Preview of products in the order list
After moving to the number of products in the Order Number column, a list of products from that order will appear. More info.
Color-coded orders according to their language
In the order list, the languages in which the order was created are highlighted in color for quick reference.
WebP image support
It is now possible to upload images in WebP format in the e-shop administration.
API - Webhooky
We have completed the implementation of webhooks in the system. See our documentation for details.
Bulk printing of orders
Orders can now be exported in PDF for bulk printing.
News in the Designer module
We have redesigned the Designer module to make it easier to set up the appearance of your e-shop. All news and modifications in the graphical configurator Designer version 3.9 can be found in the article here.
Addons
Full connection to the POHODA
Full connection to the POHODA accounting system via the Dativery bridge. More info.
Česká spořitelna BUSINESS 24 - payment matching
Transfer of order status to Česká spořitelna BUSINESS 24 via the Dativera bridge. More info.
Raiffeisenbank - payment matching
Transfer of order status to Raiffeisenbank via the Dativera bridge. More info.
ČSOB Business Connector
Transfer of order status to ČSOB Business Connector via the Dativera bridge. More info.
Mall Partner
API connection for more convenient partner sales at MALL. More info.
DeepL
Connection to the most advanced automatic compiler DeepL. More info.
EXPANDO Translator
A comprehensive tool for managing translations of your products. More info.
ABRA Flexi - full connection
Connection via the Dativery bridge. More info.
HELIOS Orange - individual connection
Individual connection provided by the company Jakub Ševela. More info.
Dextrum
Our fulfillment will start your e-commerce. Put yourself in the hands of experts and focus on your business. Restrictions related to internal logistics prevent most e-shops from growing. Maybe this is also your case and you have found yourself in a situation where you are hampered in your development by insufficiently secured logistics. More info.
Blending Bull
Blending Bull is an application for editing data feeds in CSV, XML and other text formats. Users combine multiple data feeds into one file or work with a single feed. Powerful rules that can handle a variety of data formats are used for this. More info.
Leadhub
Leadhub is an email marketing and marketing automation tool that delivers the right message to recipients at the right time. Leadhub helps increase e-shop turnover with minimal time and financial investment. More info.
Voucher Creator
Voucher Creator will take care of everything related to vouchers in your e-shop. Voucher Creator enables fully automatic management of all vouchers, from their generation to delivery to the customer via e-mail. More info.
TRIVI
The modern TRIVI accounting system is already used by more than a thousand Czech entrepreneurs. API connection. More info.
Fulfillment.cz
Synchronize all products regularly to Fulfillment.cz. Automatically send new orders to Fulfillment.cz, where they are processed. Connection via jumper API. More info.
SuperFaktura
We will use an external bridge to connect the generation of invoices for SuperFaktura.cz in real time, you can then send the invoice to the user as a link in an email or directly from SuperFaktura.cz. More info.
Other
Invoice update: in the order detail, it is now possible to update the invoice with one click to reflect the additional changes made to the order. The original dates (Issue date, etc.) are retained for the invoice. More info.
New options for matching data from Google feed: when importing data from Google feed into the e-shop, it is now possible to choose pairing by ID (default), MPN or EAN (GTIN).