Jan Štěrba (co-founder, Robot Jára): artificial intelligence is a smart temporary worker, it will limit the routine and free up space for development
Artificial intelligence is becoming an increasingly common part of our lives. It translates texts for us, improves photos or finds the ideal target audience for your ads. However, thanks to the new add-on Robot Jára, you can also employ artificial intelligence directly in your e-shop. We talked about the possibilities of smart automation with the creator of the Jára robot, Jan Štěrba.
Robot Jara has recently been added to our accessories gallery. Its name already suggests that it is a somewhat unusual instrument. So introduce us to your robot.
Jára is a helper for e-shops that saves time and helps earn money thanks to smart automations. When running an e-shop, there are many activities that people have to do, but there are also many that can be handled by a machine. We call individual automations robots, and each can do something different. You can only choose which one suits you and "employ" it. The advantage is that it works quietly even at night and costs you only for the work actually done.
What specifically can Jára Robot help with?
For example, with product sorting in categories using the Automatic product sorting robot. Users appreciate the ability to set products in stock in the first place, but most importantly, that they do not have to research google analytics, orders to capture current trends and combine this with whether Christmas or spring is coming. The robot can do this by itself thanks to artificial intelligence.
One of the novelties is the creative writing of product descriptions. Our "AI copywriter" can actually create an engaging marketing text from a technical description or one sentence about a product, followed by a comparison with other similar products and an explanation of the benefits. It sounds unbelievable, but it's true.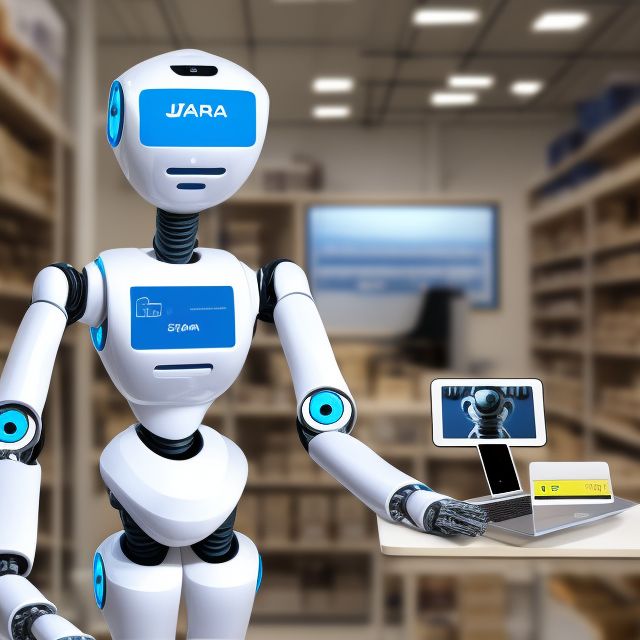 The Jára robot uses the principles of artificial intelligence, the functioning of which is quite a mystery to laymen. How does it all work?
Artificial intelligence is the marketing name for the entire field of statistics, which is more accurately called machine learning. In principle, it works by presenting a large amount of data to a program, and the program is able to find structure and relationships in it.
One example is Automatic Sorting, here the input is historical traffic and sales data from Google Analytics, as well as data on stock level, price and more from the e-shop. From this data, the robot "trains" a model, which it then uses to predict the sales of individual products based on data from the current week.
Another category is neural networks and large language models - such as the GPT model from OpenAI, which Jára uses for its AI Copywriter. You can imagine this model as a zip file with all the knowledge of humanity, which can be searched very quickly. And even that search takes place in such a way that it can generate seemingly new texts and ideas.
Example of text generated by artificial intelligence. The task was: how to choose an electric bike?
Several key factors should be considered when choosing an e-bike:
Purpose of use: Consider whether you will be driving mainly around town or longer distances. If you will be riding mainly around town, you need a bike with good maneuverability and compact dimensions. If you're going to ride longer distances, you need a bike with more range and better suspension.
Bike Size: The size of the bike should be chosen according to the height of the rider. It is important that you feel comfortable on the bike and have a good overview of your surroundings.
Battery: An important factor is battery capacity and range per charge. For longer distances, the battery capacity should be as large as possible.
Engine: Choose a bike with an engine that suits your needs. If you will be driving mainly around town, a motor with a power of up to 250 W is sufficient. For longer distances, a motor with a power of more than 250 W is more suitable.
Price: The price of an e-bike can vary depending on the quality of the components and the brand. I recommend comparing the prices of different models and choosing the one that offers you the best price/performance ratio.
How did you come up with the name Robot Jara?
We wanted a name that would make it clear that it is a tool that anyone can use. Now we are doing everything to make Jára deserve this name.
E-shoppers are currently dealing with an amendment to the Consumer Protection Act, which regulates the rules for publishing discounts. You have an elegant solution. What kind?
We created the Discount Watcher robot, which checks the regular price so that the presented discount corresponds to the new legislation.
The robot keeps a history of the selling price for all products and then checks every day based on the rules established by law and its settings that the set regular price (price before discount) corresponds to these rules. If it finds a discrepancy, can generate a report or reset the price directly.
The algorithm by which the robot determines the regular price has been checked by several lawyers and we believe that it will bring peace of mind to e-shop owners.
We will certainly hear a lot about artificial intelligence in e-commerce. How do you think it will change online shopping and e-shop management? Will some professions disappear?
I don't think that professions should disappear, I see the benefit rather in increased efficiency and the possibility to make decisions based on data and advanced algorithms. It will certainly not replace the owner of the e-shop and his employees, who breathe for him and figure out what is useful for customers to do. Artificial intelligence is like a smart part-time worker. It will help reduce routine work and allow you to move things forward faster and easier.
Large companies have been using artificial intelligence for a long time because they are able to hire experts who can work with it. Thanks to tools like Robot Jára, e-shops of all sizes get comparable options and can thus better compete with the giants.
Your price list is not entirely simple. Can you please help us root it?
No need to worry about any surprise fees or complications. After activating the robot and setting it up - even before it starts - the expected price per month of operation is automatically displayed, so you know exactly what you're in for. Often, the e-shop also has the opportunity to influence the price by setting up the robot.
As you can see, we tried to make our prices as transparent as possible. Jára bills each of its actions exactly according to its difficulty. Because each job is different, each robot has information on how much each of its actions costs. The final price varies for each e-shop and robot. In some places it depends on the number of products, in others there is a fixed price per operation.
Jar's golden rule is that it must bring at least 10x more value for the money spent. It saves hours of time for the price of one coffee.
To give you an idea: 10 credits cost 1 CZK and it corresponds, for example, to writing 4 paragraphs of text (500 words). For e-shop owners who decide to use the robot more, a quantity discount awaits when purchasing credits.
So what are the costs of integrating Robot Jára for an average e-shop?
Robot integration is free. The eshop will install it by itself according to the instructions and if it needs help, we are fully available on chat or we will help with the installation free of charge on an online call. It is possible to use the robot completely free of charge for testing and small e-shops. After registration, everyone gets a thousand credits. In addition, the e-shop receives the first 50 credits for free every month.
And have you quantified its benefits?
Jára is too young to be brandishing presentations and graphs. His main idea is to make robots whose work is priceless. For example, such a small thing as a robot for Planned changes, which will allow a limited edition to be released for sale at a precisely specified time, will allow the e-shop to deal with other things than sitting at the administration and frantically clicking at the given hour.
For e-shops to which suppliers send data by email, there is a robot that picks up the email attachment and saves it so that it can be used for import. It is then not necessary to check email every morning and manually process files.
I caught an article that talked about the fact that texts that will be generated by artificial intelligence will be penalized by google and are therefore useless from the point of view of SEO. How do you solve this penalty?
The fact is that there is no penalty. Google published the statement you mention in April of last year - but it quickly became out of date. The same month, he adjusted his position so that the normal use of artificial intelligence, such as the creation of texts for websites (blog articles, product descriptions), will not be penalized in any way. The only place where the attention will be directed is the abuse of AI for spam and the creation of SEO farms. Which is good news for everyone, because we don't have to worry that the advent of increasingly better AI will cause e-shops to lose visitors from search engines.
You are certainly preparing a lot of other news. Can you tell us some?
First and foremost, we listen to our users. We are very happy when someone contacts us and we have the opportunity to discuss together which activity they would like to automate.
At the same time, we follow current trends in e-commerce and the use of artificial intelligence. An example is a robot, which we professionally call an AI graphic artist. You may have seen images created using tools like DALL-E or Midjourney. By the way, the illustrative images in this article were created by art intelligence. Our goal is to enable e-shops to create an eye-catching original product photo for the web in a few seconds or to quickly prepare graphics for a campaign that includes information about a discount and is prepared in the right formats for various social networks.