Story of online shop GLIX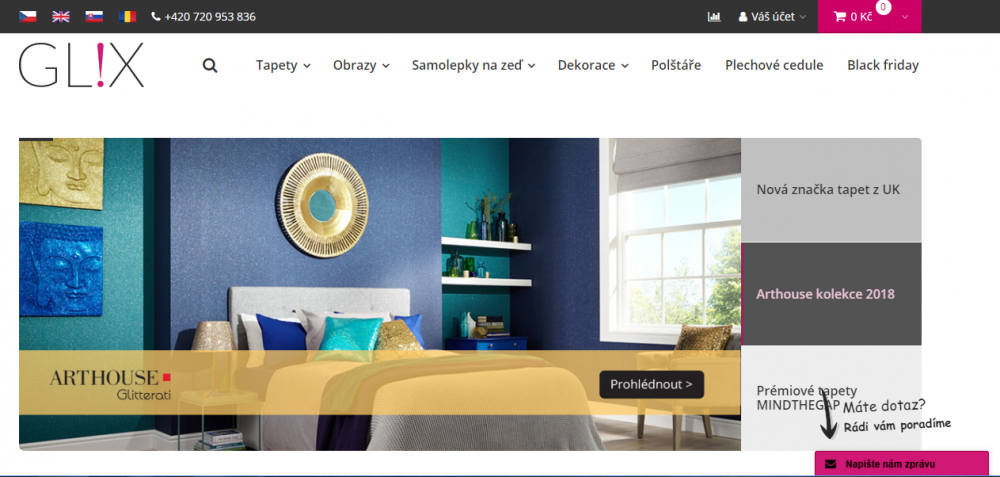 What business do you do?
GLIX is an online store with interior decorations. From the beginning, we were devoted to producing wall stickers, over time we extended the offer with wallpapers and paintings on canvas. Nowadays you will find screens, mirrors, glass paintings, notice boards or decorative pillows. Our assortment is constantly expanding, with lights, clocks or home furnishings coming this year.
How did you get started?
Just like any starting family business - from the living room. The original idea was to create a small online store for my mom, now a company executive. I wanted her not to be bored on retirement, and so she was cutting her time with creative work. A couple of orders a day quickly became a couple of dozens, and all of a sudden we worked every day in the early morning hours. I gave my testimony at work and decided to dedicate our online store to the fullest. At the time I ended, we were making more than 800 thousand a month.
How is your online store different from your competitors?
At first it was mainly our own product creation. We wanted to sell something that does not have competition. That's why we searched for new vendors looking more abroad and avoiding products that offer another 100 stores. And that paid off. We are now cooperating with foreign producers who did not have representation in the Czech Republic or Slovakia, and with most of them we have concluded exclusive contracts after some time.
How fast does your business grow?
Faster than we ever hoped, and much faster than we can handle. We are naturally happy about this, but the 18 months we have GLIX have been very demanding. We have grown by 500% on a month-to-month basis, and it is very difficult to manage, even if a new employee joins each month. Already after the first 4 months, the power of the Upgates system was fully demonstrated and we were at the forefront of search engines. We even had to slow douwn our grow and turn off PPC advertising and Facebook. Now, month-on-month growth has stabilized to around 30%. This year we managed to handle almost 18,000 orders and the expected turnover is just over 50 million crowns.
Currently, 9 permanent staff and 10 outsiders work in GLIX. In April, we moved into larger spaces, outsourcing logistics and warehousing, so we can fully engage in marketing, product expansion, and expansion abroad. This year we launched an online store in Romania and next year we are planning another three European countries.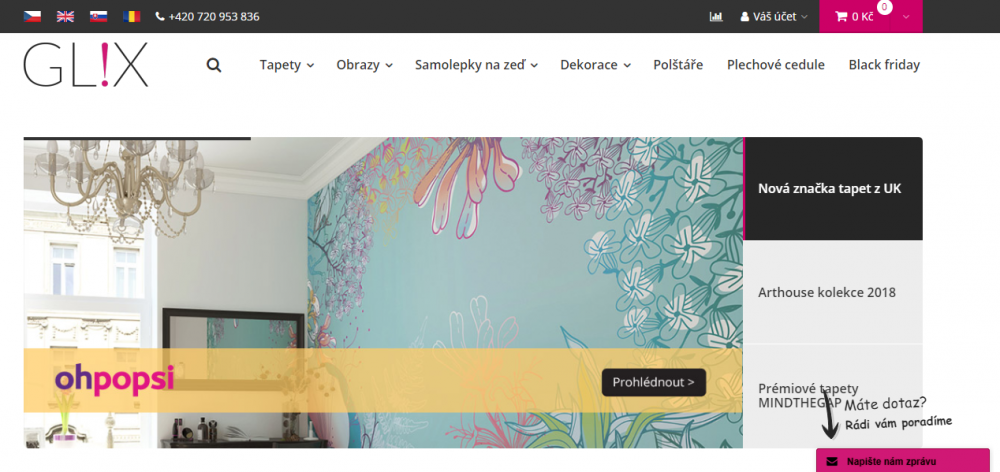 Why did you choose the Upgates platform?
For the same reason as we have selected product suppliers. We did not want the system that most online stores in the Czech Republic have. How do you want to be interesting for search engines when your competitor has the same source code? How to be interesting for a visitor when a competitor has the same or similar template? We bet on Upgates and it was a great choice.
Would you recommend Upgates? Why?
Sure! If you start doing business online, it's a great solution. We quickly learned how to use the Upgates and helped us with great customer support. Later, we appreciated sophisticated XML/CSV import and export, almost limitless designer options and individual source code editing. APIs set up a few months ago were just the cherry on the cake. :)